In the pipe area we perform the following services:
• Preliminary assessment by qualified technicians.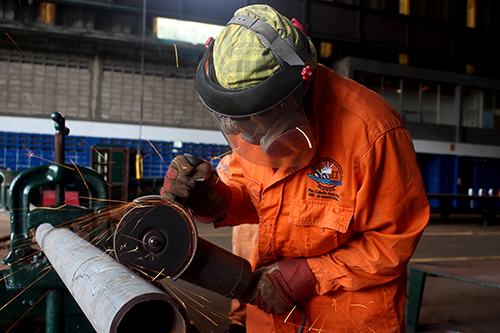 • Works with carbon steel pipes according to DIN 2448 standards, accessories, elbows (reduction, tee) forge stell flanges in A-105 steel nipples, NPT elbows, BSPP and Weld socket.
• Stainless steel pipes, Forged Flanges. Butt welding accessories according to ASTM A-403, Threaded Fittings ISO Standard Grade: 316 / 1.4404 / 1.4408 / 1.4436 / 1.4435 / 1.4571.
• Copper nickel pipes in DIN 86019, pipes from ½ to 6 "available. And accessories in DIN 86037, 86088, 86089, 86090, and the like.
• Hydraulic lines in DIN 2391-e and salable fittings and adaptable fittings in DIN 2353, SAE J 514, BSI 5200 and similar.
• Piping with aluminum 6061 and similar.
• Maintenance and cleaning of equipment such as: Capacitors, tubular heaters, sweep air coolers, evaporators. Keel coolers, oil coolers, industrial equipment cleaning and others.
• Welding for pipes and applications in oxyacetylene process, SMAW (rods), GTAW (argon), GMAW (microwire).
• Quality control for pipelines and NDT tests (non-destructive testing); X-rays.
• Hydrostatic and Pneumatic Hydraulic Testing.